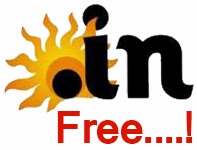 INTRODUCTION:
hello Guys Here Is The Best offer To Get .in and .co.in Domain in free for Limited Period Follow Below Steps To Get It
STEPS:
1) Go to
https://www.zoho.in/
2) Enter your domain name and click on
continue
3) Fill up the information for sign up ( If already signed in then this page will not open)
4) You will receive confirmation link & token no. within two days on email.
5) Follow that link and get your free domail name.
NOTE:
* Maximum One domain can be availed from one user as per their rules
* With this domains you can not change name servers, you have to stick with their free hostings.